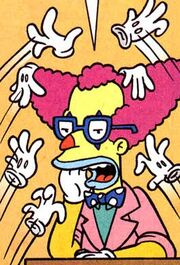 Dr. Clownius
is a fictional character, the main antagonist of the
Radioactive Man
movie as depicted in the
Simpsons
episode "
Radioactive Man
." A mad leader of a gang of clowns, Dr. Clownius blames a rising tide of
coulrophobia
on stand-up comedians, performance artists, mimes, and most of all, his adversary
Radioactive Man
. He uses his gang of clowns and his henchman
Silly Sailor
to torment the Irradiated Crusader.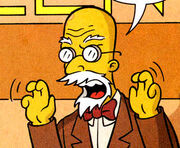 Clownius then masquerades as psychiatrist and TV personality
Dr. Swartzwelder
(named for Simpsons writer
John Swartzwelder
) and tries to tarnish Radioactive Man on
Gloria Grand
's TV show. Radioactive Man and his sidekick Fallout Boy ultimately defeat Clownius' goons and unmask Dr. Swartzwelder, putting an end to the threat of clowns in
Zenith City
.
Krusty the Clown plays Dr. Clownius and Silly Sailor.[1]
↑ Radioactive Man: The Official Movie Adaptation